By Lauren Clark, NY Business Journal,
For Joy Hou, technology has drastically changed all industries but one: commercial real estate. The $15 trillion industry is burdened by arduous third-party certifications, international barriers and delayed negotiations that set-back the process, Hou said.
So Hou, the co-founder founder and CEO of the real estate tech company Metis, set out to transform the current status of commercial real estate transactions. Today, the company launched a cloud-based platform call MREN to help buyers and sellers do business.
At a launch party yesterday at the Knickerbocker Hotel in Times Square, Hou described MREN as the first principal-to-principal commercial real estate transaction platform. Commercial real estate players in New York, along with other domestic and international cities, can come together virtually to directly "connect, collaborate and close." Both sides of the transaction can use this service to instantaneously access documents, data and communication tools.
By minimizing the process-oriented aspect of the transaction — such as signed documents and data collection — there is more time for collaboration and communication, leading to a quicker and more efficient closing, said Hou, a former director with Barclay's U.S. real estate market group and a vice president at Lehman Brother's global real estate group.
While fragmentation remains an issue with CRE, Hou said she hopes MREN can close the gap by bringing together players in the same way Facebook or Craigslist has for other industries. Cutting out third-party barriers is what MREN sees as a major benefit to the service. Self-described as providing users "with their own private marketplace." it is available to a wide variety of participants, from REITS to family offices.
"We are creating a new eco-system for the industry," Hou told the New York Business Journal, "[Metis] wants to be be known as the place, the platform that changed how people work."
Interested customers can access MREN's sandbox feature online for free to test drive features with sample data.
"When developing the technology, we learned that differences amongst stakeholders are superficial," Edwin Lui, Metis' chief technology officer, said at the launch event, "Going deeper, we realized everyone has a problem organizing data and keeping track of documents. This is what our technology helps fix."
Using a network business model, Hou says there will be a subscription fee component, but it will be waived for the first year as MREN continues to build and improve the network. Currently, both parties to a transaction will pay what was described as a minimal service fee before they complete a deal.
MREN will offer several other services to its customers through strategic partnerships, including one with the advisory firm Alvarez & Marsal. Customers who need support with underwriting and value assessment are provided with A&M's specialization.
Founded in 2013, the Rancho Santa Fe, California-based Metis was funded by a $7 million seed investment given by a global real estate family office based in Hong Kong. The investment was used to build alliances, expand its network and prepare for the launch of MREN during the past two years. Although Hou admits current revenues are small, she said they company expects to attract $500 million of opportunities from the private sector, with some hope to also work with the public sector, including partnerships with municipalities.
Kyle Allen, director of NYC based Synapse Development Group, said MREN would be a product that would help connect helpful resources. "We are always looking for more marketing knowledge so we can expanding our network," Allen told the New York Business Journal.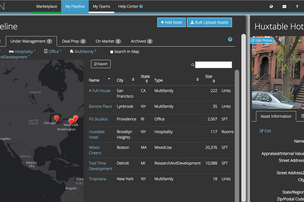 Courtesy of Metis
A screen shot of using features MREN, a product which helps connect players in the commercial real estate industry.
---
Tags:
commercial real estate platform
,
distrupting the commercial real estate industry
,
metis
,
metis financial network
,
MREN
,
new way of doing business in commercial real estate