By iBillionaire,
Warren Buffett likes to buy American. Nearly 98% of the Berkshire Hathaway equity portfolio is allocated to U.S.-headquartered companies, with just 2% based in Canada, France, the Netherlands and the U.K.
Within the United States, the Oracle of Omaha looks far beyond the Nebraska border for investments. In fact, the Midwest is the region in which the billionaire has parked the least amount of cash.
Less than 10% of Warren Buffett's equity portfolio is allocated to companies headquartered in his home region. Instead, it's the Northeast where he has allotted the most assets, followed by the West and the South.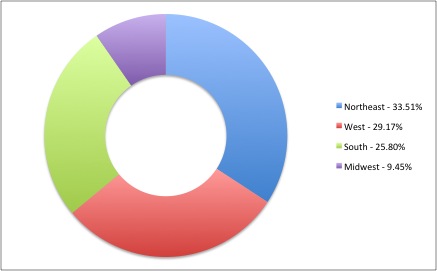 State-by-state, New York is, unsurprisingly, the place where much of Warren Buffett's portfolio is allocated. Eight of the companies in which he is invested, including American Express (NYSE:AXP), Moody's (NYSE:MCO) and Goldman Sachs (NYSE:GS), are headquartered in the state; however, not all of them are in the Big Apple. IBM (NYSE:IBM), which comprises 12.4% of Buffett's portfolio, is based in Armonk. MasterCard (NYSE:MA) has its home base in Purchase – a pretty fitting name for the home of the credit card giant and iBillionaire Index holding.
More than a quarter of Warren Buffett's holdings are allocated to California-based firms – among them Visa (NYSE:V) and DIRECTV (NASDAQ:DTV).
Perhaps more notable is Georgia, which is the home of 15.83% of the billionaire's equity assets. The explanation, of course, is Coca-Cola (NYSE:KO).
Headquartered in Atlanta, the company, one of Warren Buffett's most iconic investments, has called the Peach State home for more than 125 years. UPS (NYSE:UPS), also a Buffett holding, is based in Atlanta as well.

As to what cities Buffett's investing in, one of the answers is Houston. Four of the billionaire's energy picks are based there: ConocoPhillips (NYSE:COP), National-Oilwell Varco (NYSE:NOV), Phillips 66 (NYSE:PSX) and NOW Inc. (NYSE:DNOW). Six of the companies he's invested in have their home offices in NYC.
However, San Francisco is the home of the company on which Warren Buffett has made his biggest bet. It is where Wells Fargo (NYSE:WFC), the Oracle's top holding, is headquartered.
For more information on Warren Buffett and more billionaire investors, get iBillionaire for iOS and Android.
http://blog.ibillionaire.me/city-by-city-state-by-state-this-is-how-buffett-invests-in-the-u-s/
---
Tags:
buffett investments by U.S. city and states
,
iBillionaire
,
Warren Buffett
,
Warren Buffett investments