For millions of Americans, housing costs are perversely mismatched to hourly wages. In 2017, the average U.S. worker would need to bring in a whopping $21.21 per hour to reasonably afford a modest two-bedroom apartment. That's nearly three times the federal minimum wage of $7.25, and roughly 30 percent more than the $16.38 hourly wage that the average U.S. renter brings home.These stark numbers come from the National Low Income Housing Coalition's latest Out of Reach report, which maps the minimum hourly wage required to afford a modest rental based on federal Fair Market Rent (FMR) estimates. The report defines "affordable" as housing and utilities that cost no more than 30 percent of a person's annual income—also the basic standard used by the feds. NLIHC has run these reports since 2005, and this minimum "housing wage" is rising year over year.
Even with a handful of states and cities celebrating recent "livable wage" victories (or defeats, if you ask a certain Georgia congressional candidate), there's not a single state, county, or metro area in which a simple two-bedroom rental is affordable to a person working 40 hours per week, 52 weeks per year, at the local statutory minimum wage. And in states with particularly in-demand urban housing markets, the shortfall between rent and housing costs is particularly staggering.
For example, a FMR two-bedroom apartment in Hawaii, with the highest statewide housing costs in the nation, is $1,830. That would require earning $35.20 per hour, close to four times the state minimum wage of $9.25, and $19.56 per hour less than what the average renter there earns. In Maryland, a simple two-bedroom costs considerably less on average—$1,470 per month—but renters would still need to draw in $28.27 per hour to afford it.
In only 12 counties in Washington, Arizona, and Oregon (all states with minimum wages above the federal standard) can that worker afford a modest one-bedroom unit. Almost all of these are in sparsely populated rural areas, far from job centers. More than 76 percent of renter households reside in a county or metro area where it takes more than 60 hours per week of full-time, minimum-wage work to reasonably afford even a one-bedroom unit. In California, the nation's most populous state, it would take 92 hours. In Virginia, it would take 109.More than 2 million U.S. workers are paid wages at or below the federal minimum, according to the Bureau of Labor Statistics. That represents nearly 3 percent of all workers paid hourly. For these workers, the affordable housing pinch is most acute. The struggle is real for the rest, too. Americans earning median wages in many of the country's fastest-growing occupations—customer service agents, nursing assistants, health aides, retail workers—aren't making enough to manage even a one-bedroom without dumping more than 30 percent of their income.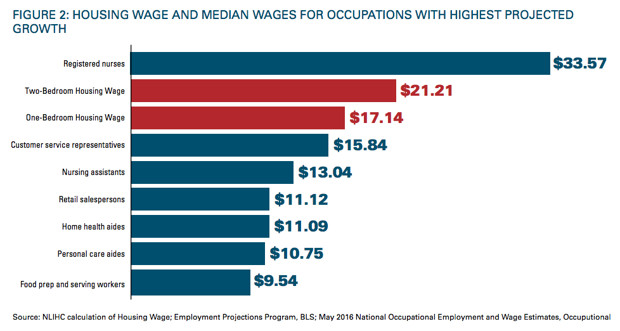 What gives? Rents are declining in some of the priciest American cities; it seems the luxury rental bubble has finally sprung a leak. But a persistent shortage of affordable units is still pinching renters in lower income brackets. Fewer families are buying homes, often due to a lack of access to mortgage credit or insufficient savings for a downpayment. Demand for rentals continues to surge, and households across the income spectrum are competing for the same scarce units. Low-wage workers have seen pay increases over the past two years, but those haven't kept up with the cost of living through an affordable housing crisis with no end in sight.
https://www.citylab.com/equity/2017/06/rent-is-affordable-to-low-wage-workers-in-exactly-12-us-counties/529782/?utm_source=yahoo&yptr=yahoo
---
Tags:
Affordable Housing
,
American cities
,
cost of living
,
housing costs
,
rental bubble
,
U.S. worker
,
urban housing markets