"It's quite crazy, in my opinion, how a lot of these companies, they don't really make money. And they're able to raises gobs of venture-capital money, to fund these businesses that may not work out in the long term."
That was Shyp cofounder and CEO Kevin Gibbon back in early 2016, chastising some of his fellow entrepreneurs. At the time, he was scrambling to chart a different sort of future for his own venture-backed startup. But that quest ends today. A half-decade after its founding, San Francisco-based Shyp is ending operations and laying off all its employees.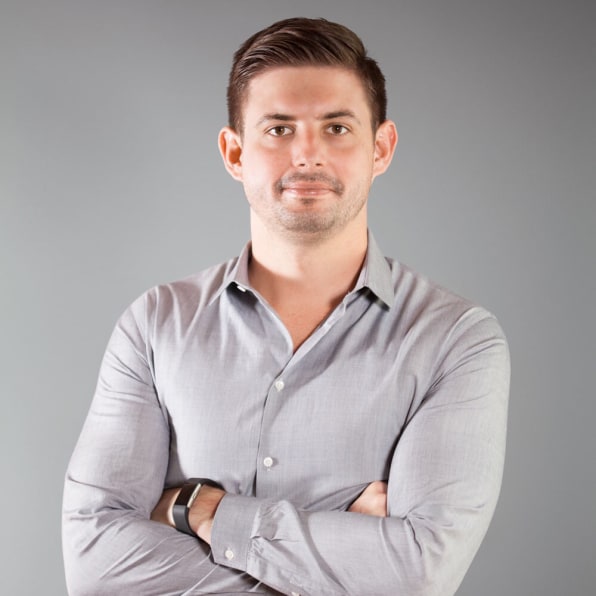 Gibbon declines to state how many staffers are impacted by the company's closure. He is, however, willing to share the hard-earned lessons he's learned from his experience at Shyp, which started out as a service that let you take a photo of something (or several somethings) you wanted to ship with the company's smartphone app, whereupon a courier would come to you and whisk your stuff away to a warehouse where employees would pack it up and hand it off to a major shipping company for delivery. Initially, that was a way for individuals to avoid the drudgery of boxing up items themselves and lugging them to the post office. More recently, the company had shifted much of its attention to business owners, who also find shipping to be drudgery–just on a grander scale.
Gibbon's own 2018 post-mortem diagnosis of the events that led to Shyp's demise begin with the company, in its early days, having behaved too much like the profligate startups he derided in 2016. "This business should exist," he sighs. "It absolutely should. Consumers loved it. Small businesses loved it. But what we didn't do is focus on having a sustainable business from day one."
More recently, Shyp had bet everything on sustainability rather than expansion. It drastically downsized itself last July, when it ended service in Chicago, Los Angeles, and New York, laid off much of its staff, and dedicated itself to reaching profitability in its home market of San Francisco. Even earlier, it had laid off 8% of its workforce and before that shuttered its Miami operations.
According to Gibbon, the new, smaller Shyp began turning an operational profit last December; he's proud of the way the surviving employees hunkered down and kept on getting things done. But the company still needed more funding to continue and was unable to secure it from venture-capital firms, which have grown wary of the whole category of startups that provide on-demand services involving physical infrastructure such as Shyp's couriers and warehouses. With no viable alternative moves such as selling the company on the horizon, "we just ultimately ran out of time with the cash that we had available to us," he says.
PRICEY MAGIC
In Shyp's heyday as a venture-capital darling, the story was different. It raised a total of $63 million in funding, including a $50 million round led by Kleiner Perkins Caufield & Byers. That gave a board seat to VC titan John Doerr, who told me in 2015 that "Shyp is the first to make it effortless and friction-free to ship your goods, in a way that's almost magical." The company was flush enough with funds to be among the first on-demand startups to turn its contractors into employees, a transition that increased its costs but also permitted it to exert a higher level of quality control. It started calling itself "the new global standard in shipping" and launched an ambitious ad campaign to ramp up its customer base.
Looking back, Gibbon says that "the investment we took, everything we got, wasn't warranted for where the business was at. And I think that really hurt us. The expectations were way too high. We had a lot of capital. We had to deploy it. And I don't think we were ready to do that. We prematurely scaled."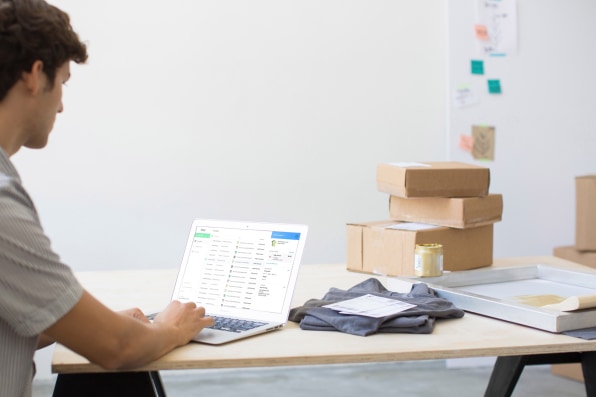 When Shyp had launched its service in the summer of 2013, it didn't have much to its name other than a rented garage for an HQ, the Google Spreadsheet that customers used to request pickups, and the Zipcars that Gibbon and cofounder Joshua Scott rented to ferry packages. After receiving initial funding from the likes of The 4-Hour Workweek's Tim Ferriss, the company began to move beyond its humble origins, which required sophisticated mobile apps and behind-the-scenes logistics software, couriers stragically positioned around service areas, and warehouses where still more people boxed up items for handoff to UPS, Fedex, and the USPS. Eventually, it employed hundreds of people and offered service in five metropolitan areas.
Judging from my encounters as a paying customer, Shyp really did nail the customer experience in its consumer-focused days. Its app was well-designed. The couriers were personable and often arrived even more swiftly than the promised 20 minutes. And people who received my shipments marveled at the quality of Shyp's custom packaging, which it produced using its own box-cutting machines.
As Doerr said, it all felt magical. But its magic was a pricey business, a fact Gibbon understood all along. "It's pretty silly," he told me in early 2016. "We charge a $5 pickup fee, and that includes the packaging and coming to your home. And all items are not created equal. Shipping your shoes versus shipping your TV, it actually doesn't sound like it makes a lot of business or financial sense. It doesn't."
Shyp's goal had never been to build a business on $5 pickups. Instead, it was able to negotiate deep discounts from companies such as Fedex and UPS and then mark up the delivery cost it charged its customers, allowing for a significant theoretical profit margin. But it began recalibrating its operations to make sure the service it offered for $5 didn't destroy its ability to make money via shipping-cost arbitrage. For example, it decided to charge for packaging, which now starts at $3 an item and can cost up to $75 for an extra-large, fragile item. (It also started letting you opt to do your own packing, which isn't magical at all.)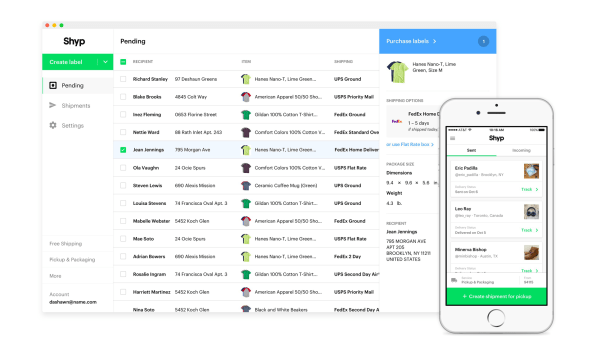 More fundamentally, the company began to shift its emphasis from catering to individuals who might ship items one or two at a time on an irregular basis toward serving small businesses that ship lots of items all the time. That market–also served in various ways by other companies such as Shippo and ShipBob–offered the potential for volume business of the sort that might make Shyp a sustainable business rather than a money pit. The company introduced tools for managing inventory, built integrations with e-commerce platforms, and started offering volume discounts.
To continue in this more corporate direction, Shyp had recently been working on a set of features aimed at even higher-volume shippers. "We were in beta with a number of customers but we had not launched yet," Gibbon says. "And we were seeing a ton of traction." Venture capitalists were not as optimistic about the new offering's prospects as he was, prompting the company's shutdown.
If Gibbon could rewind Shyp's history, he says, he'd take many of the same steps the company has taken over the last couple of years–but would take them much earlier. "I blame myself for this," he admits. "Picking the right things to work on at the right time was our biggest failure."
THE END OF ON-DEMAND
Ultimately, says Gibbon, "I'm not quite sure, if I were to do this again, that I would go after the consumer." That's understandable: The very viability of resource-intensive, consumer-focused on-demand services as an idea remains open to debate. Entire classes of startups–ready-to-eat meals, on-demand valet parking–have already been pretty much wiped out. Even Uber, the nine-year-old capo di tutti capi of all on-demand startups, continues to subsidize rides with the $21 billion it's raised in venture capital.
Shyp has often been described as "the Uber of shipping," but creating the Uber-of-something is no longer a way to get venture capitalists to write checks. That doesn't mean that sanity prevails in Silicon Valley, just that its irrational exuberance has moved on to other domains. "There's similar hype for cryptocurrencies," Gibbon says. "That's the 'Uber-of' of the moment. And to anyone who has anything there, I'd say, 'I've been through it, and before you raise capital, know what you're going to do with it. The expectations are really, really high, and you need to live up to that, or the chance that you're going to fail is very, very high.'"
Once he's done winding down his brainchild, Gibbon–who got his entrepreneurial start as an eBay Power Seller in high school and ran one small company before Shyp–plans to take a week or two off. Then he intends to turn his battle scars into another startup. Though he isn't ready to explain his new concept in any detail, he says that it sprung from working on Shyp in its final, more business-centric incarnation, but won't involve anything like the same physical-world footprint.
"I think there's an opportunity here to solve this pain point in a much more scalable way," he says. "One hundred percent technology, and no warehouses." And no need to raise tens of millions of dollars, with all the implications they bring with them.
https://www.fastcompany.com/40549442/how-shyp-sunk-the-rise-and-fall-of-an-on-demand-startup?partner=feedburner&utm_source=feedburner&utm_medium=feed&utm_campaign=Feed%253A+fastcompany%252Fheadlines+(Fast+Company)
---
Tags:
business operations
,
entrepreneurial
,
Fedex
,
learned from experience
,
on-demand services
,
ShipBob
,
Shippo
,
Shyp
,
startup funding
,
sustainability
,
UPS
,
USPS